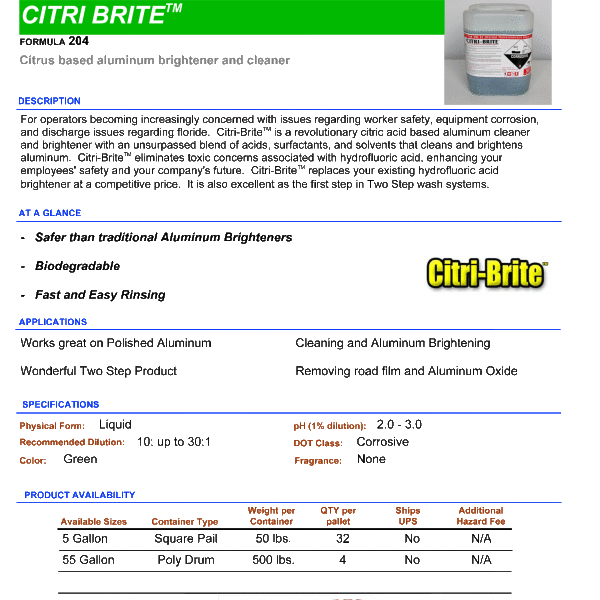 Go back
Non-HF Aluminum Brightener – Citri Brite 204 by KO Mfg.
Spec options
Description
KO's Citri-Brite™
eliminates toxic concerns associated with hydrofluoric acid, enhancing your employees' safety and your company's future.  Citri-Brite™ replaces your existing hydrofluoric acid brightener at a competitive price.  It is a revolutionary citric acid based aluminum cleaner and brightener with an unsurpassed blend of acids, surfactants, and solvents that cleans and brightens aluminum. Works excellent to clean and shine stainless steel.  Works in hot or cold water application systems. Helps prevent flash rusting of steel as well as removes light corrosion  .It is an great choice as the first step in
Two Step Wash systems.
For operators becoming increasingly concerned with issues regarding worker safety, equipment corrosion, and discharge issues regarding fluoride  Citri-Brite™ is for you! Can be used on polished Aluminum. (Consult a Powerwash Solutions Representative for application directions)
Benefits at a glance:
Non Hydrofluoric cleaner for aluminum
Safer than traditional Aluminum Brighteners
Biodegradable
Fast and Easy Rinsing
Works with a 2-Step System
Removes road film and Aluminum Oxide
Cleans Stainless Steel, and many other surfaces
204 Spec Sheet
Standard Accessories
Available Options
Common Uses for this product:
2 Step Wash Systems
Non Hydrofluoric Aluminum Whitening
Non Hydrofluoric Aluminum Brightening
Polished Aluminum Cleaner (Consult a PWS. Representative for Directions)
Pre-wash for Automatics or Hand Held Applications